Saying "Yes" to the Dress: Nancy's Bridal Boutique
Can we talk about how exciting it is to finally find your dream dress? Most of us have been dreaming about this day since we were little girls. Ever dress up like a princess? Shopping for wedding dresses is your chance to finally feel and look just like one. My beautiful sister is engaged and I had the joy of accompanying her to her appointment at Nancy's Bridal Boutique, in hopes of finding the perfect dress for her. As her younger sister and her only sister, it brought so much joy to my heart to watch her stand up on the pedestal and have the spotlight all on her.
Walking into Nancy's bridal boutique felt truly exciting and special. As the maid of honor, I was ecstatic to be part of this experience. Nancy's bridal boutique has a gorgeous layout. Crystal chandeliers, aisles of lacy dresses and tulle skirts organized by style, and elegant chairs were the first things that caught my attention. The store is lit with warm chandeliers and equipped with comfortable, luxurious seating for you and your party, as well as floor length mirrors that show the bride from several different angles, perfect for trying on those beautiful gowns! As my mom, sister, and I shopped around for dresses, Sarah Brightman was playing over the speaker in the boutique, the perfect way to top off the entire vibe of the store. Her feminine, light, and airy voice was soothing. What a special shopping trip this truly is! It's not every day you get to see and touch dresses like these.
Walking into the appointment, my sister had a pretty decent idea of exactly what style of dress she wanted, even down to the designer. She was specifically in search of Watters by Willowby gowns and she found exactly that. The princess section was immediately eliminated, which definitely helped to narrow things down. Puffy, Cinderella ball gowns just aren't really her style. In my opinion, she doesn't need all the drama of a poofy skirt, and that proved to be true when she started trying on the gowns. The simpler dresses allowed her beauty to be the center of attention.
Every dress she tried on was gorgeous. We pulled so many dresses, I began to worry it would be difficult to narrow it down to just one. And it was! A basic rule of thumb is to start with pulling five dresses. It's safe to say we pulled a little more than that. I laughed to myself when I heard my sister nervously ask the consultant, "Can I pull one more dress?" Having too many dresses is a wonderful problem to have. Despite our excitement to keep pulling more and more dresses, the bridal consultant was a rockstar and let my sister pick out as many dresses as she wanted! She also helped my sister get in and out of the dresses. Anybody who's tried on a wedding dress knows that buttoning up those dresses is no easy task!
She tried on a lot of great gowns, I can't really recall any that I wasn't crazy about. I know that doesn't happen for everyone, but my sister has pretty great taste! There were definitely a couple that just weren't for her, but there were quite a few dresses she tried on that quickly became favorites of mine.
Everybody tells you that when you find the right dress, you'll just know. That was definitely the case with my sister, although it did take trying on a couple of dresses more than once to truly know which dress was really hers. She had narrowed it down to two eye-catching gowns. The complicated part? They were COMPLETELY different styles. How do you decide between two opposites? This is where going with your gut really kicks in. It really is all about how the dress makes you feel and this is a decision that nobody can make for you. One dress was much more glam than the other, but boy was it a show stopper.
The other was much less dramatic, but beautifully intricate and perfect for an outdoor wedding ceremony. It had the perfect balance of simplicity and elegance with a touch of daintiness. I've never seen another dress like it and it elongated her figure and fit her just right, and that was just the sample! At first, I was definitely rooting for the more glamorous dress. The way the jewels were catching the light had me obsessing over it.
My sister took off the glam gown and put on the dress without the sequins and sparkles. She didn't need the jewels, her smile was already sparkling enough in that gorgeous gown. When the consultant bestowed a cathedral veil upon her head and "jacked her up", as Randy calls it on Say Yes to the Dress, the emotions started showing through. The veil was what made it all real. The tears started flowing and I thought to myself this might be her dress. Naturally, she still wanted to try on the other dress before committing. But, when she put the other one back on it just was not the same. So she took the bejeweled dress off and tried on the other one yet again. This time with her hair up, a veil crowning her head again, and my mom with tears in her eyes, my sister knew for sure that this was her dress. And I knew it too. My sister's future mother-in-law was just as in awe of the dress as we were. It was quite the special moment for all of us to share together.
While she did go back and forth between the two she ultimately went with the beautiful gown that was better suited for her outdoor ceremony. As much as I loved the glamorous gown, it just wasn't her style and it didn't look like her the way the other dress did. The dress she picked out is a show stopper in itself. My sister is beautiful, but I've never seen her glowing like that before. She looked like an elegant swan and she definitely made the right choice.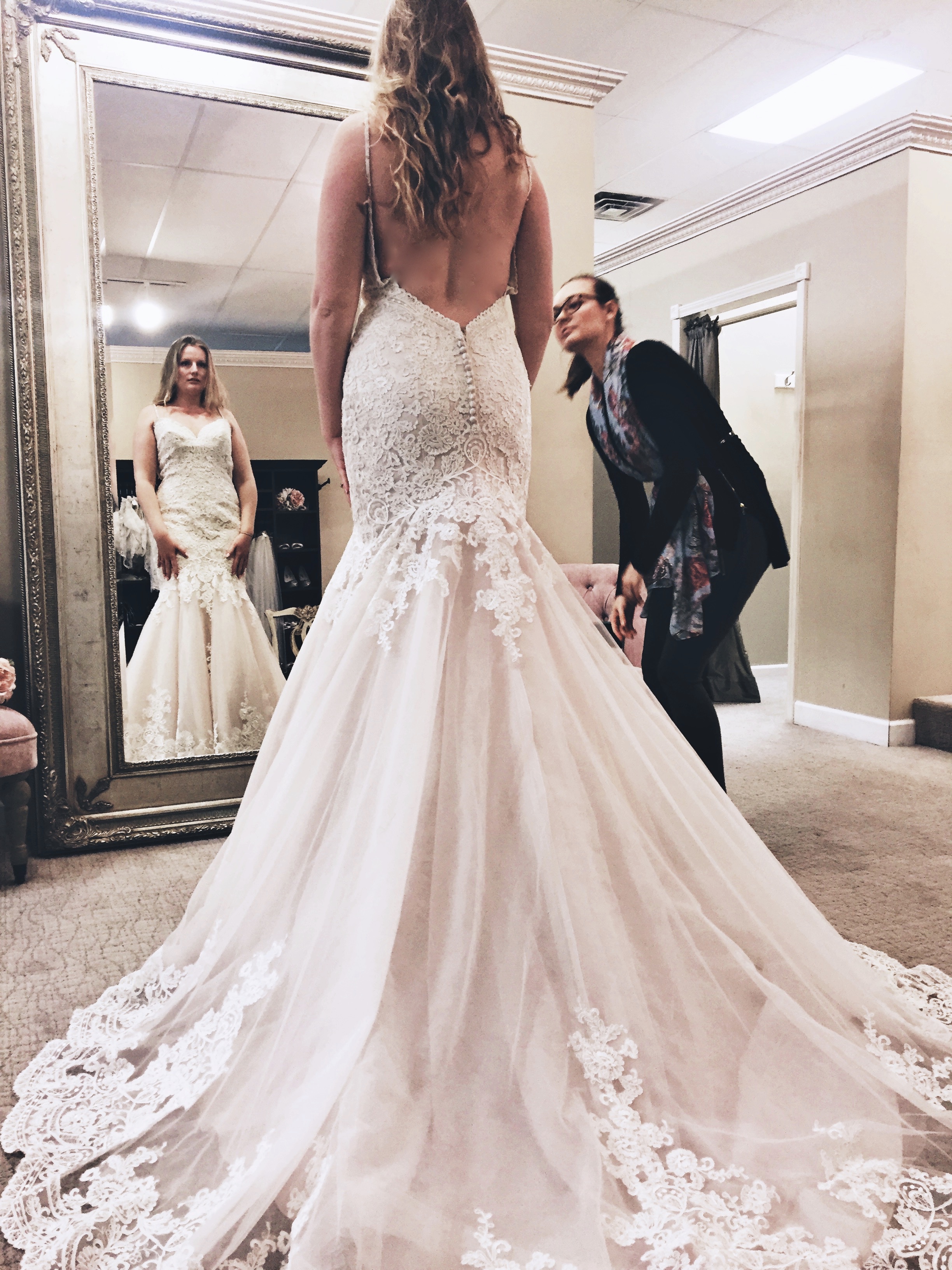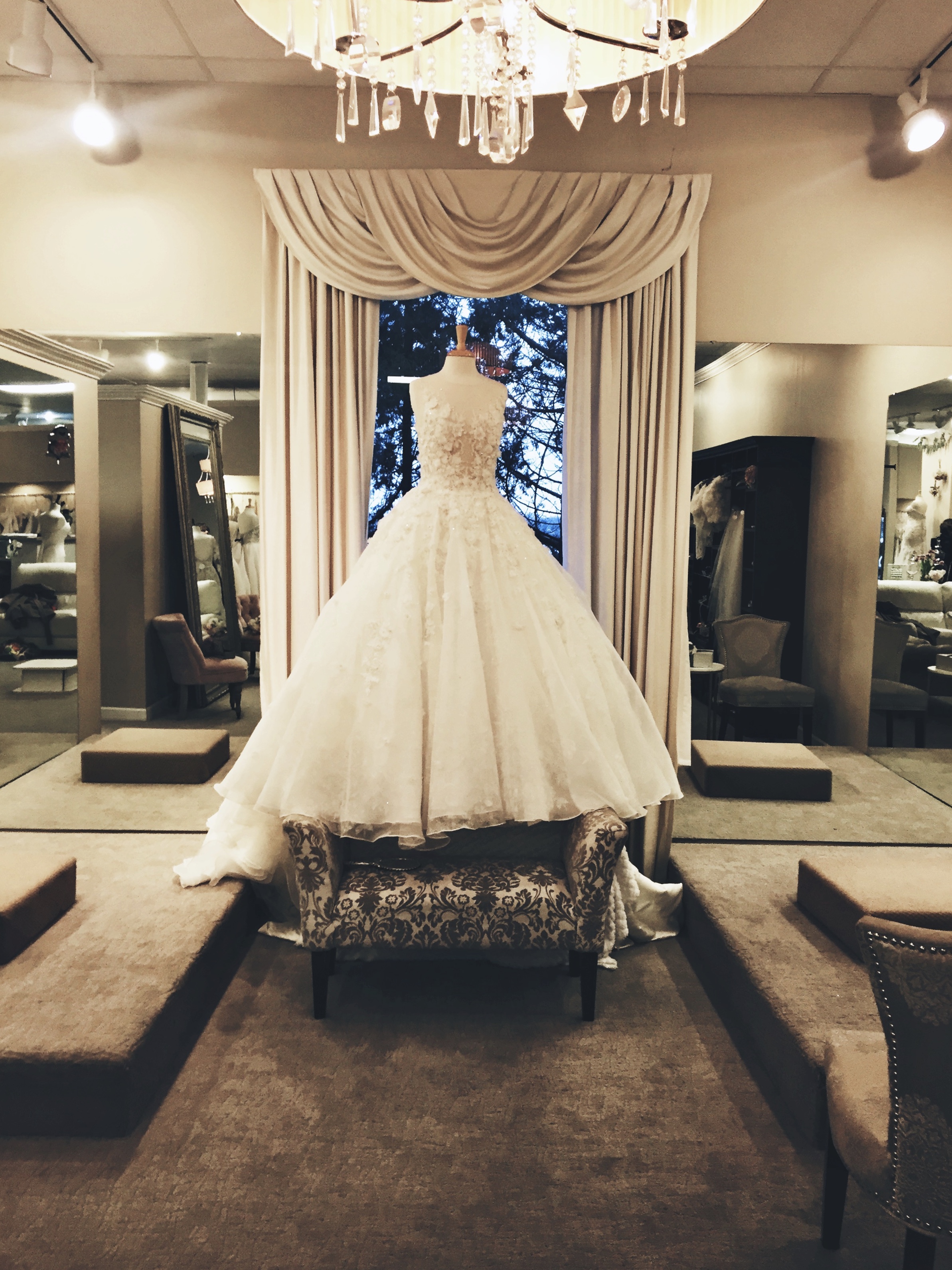 Click through these photos to see a glimpse of our day at Nancy's Bridal Boutique!
We all celebrated, took pictures with the beautiful bride to be, and shared a special moment, one that I won't ever forget. Watching my sister find her dress made my heart feel that warm and fuzzy feeling everybody loves. I know my sister will feel like the princess she really is in that beautiful dress on her wedding day. I cannot wait to see the look on her fiancé's face when she starts walking down that aisle. I'm thinking his best man might want to stick a couple of tissues in his pocket, maybe an extra one for me too. Congratulations Shelby and Roger! I love you both.