Meghan & Harry: Highlights From the Royal Wedding
With the recent televised nuptials of Meghan Markle and Prince Harry taking place last weekend, the whole world has been buzzing with stories about the ceremony and reception of the new, royal power couple. (Make some room William & Kate!) Meghan Markle has now began a life of royalty, claiming her title as a duchess alongside her duke, Prince Harry. This royal wedding was a far cry from traditional, with several nods to American culture and Meghan's personal style.
With a gospel choir singing "Stand by Me" and "This Little Light of Mine", Meghan elegantly made this wedding her own, regardless of the royal flair, tradition, and uniformity that comes with the British culture. Judging by the looks on the faces of those in attendance, none of the royals were expecting Michael Curry's nearly 15-minute long sermon, a truly excellent display of Meghan's multicultural background, and one of the more noteworthy parts of the ceremony. That was just one example of Meghan's own personal touch during the ceremony. Meghan also asked the young and talented Sheku Kanneh-Mason (only 19 years old!) to perform the cello at her wedding. His performance was simply exquisite and infused with emotion and passion, a true sight to see. From start to finish, this ceremony brought Markle's multicultural background to center stage and we are here for it.
With over 600 attendees at the royal wedding, many A-List celebrities were among those lucky enough to score an invite, including tennis superstar Serena Williams, George and Amal Clooney, talk show host James Corden, Idris Elba (who tried his hand at being the DJ during the reception), Oprah Winfrey, royal wedding veterans David and Victoria Beckham (Who's surprised? Not me!), small screen actor Priyanka Chopra, Pretty Little Liars Star Troian Bellisario, and British big screen actor Tom Hardy, to name a few. This star-studded guest list came dressed to impress, decked out in fanciful suits, gorgeous gowns, and of course, the signature British hats otherwise known as a fascinator.
Fun Fact: There were two guests we were particularly surprised to see... ex-girlfriends of Prince Harry's! That's right, Chelsy Davy and Cressida Bonas, who were all smiles during the ceremony! (Except, I must note, I did catch a few downcast looks from Miss Davy. Maybe it's because she wasn't invited to the reception. YIKES! Bold move Prince Harry, bold move).
Designed by Clare Waight Keller of Givenchy, this gown was made entirely from white silk with an A-line skirt. So how much did this gown cost? A rumored £387,000. While Markle went for a simple look, she looked absolutely radiant and stayed true to her personal style.
One tribute to Diana can be found in Markle's veil. While Markle's Givenchy dress was simple and sans adornments, lace, ruffles, sequins, jewels, etc, her veil was the true star of the show. Her veil was an ode to Princess Diana as it included signature flowers from each country in the British Commonwealth (53 to be exact), embroidered into the nearly 16 feet of tulle that trailed behind her classic gown. Fun fact: those that worked on the veil had to wash their hands every 30 minutes to keep the thread perfectly intact!
Meghan's understated yet sophisticated and elegant bouquet was also a nod to Princess Diana. Each flower was hand-picked that morning by her groom and among those that Harry picked were Forget-Me-Nots, one of Princess Diana's favorite blooms.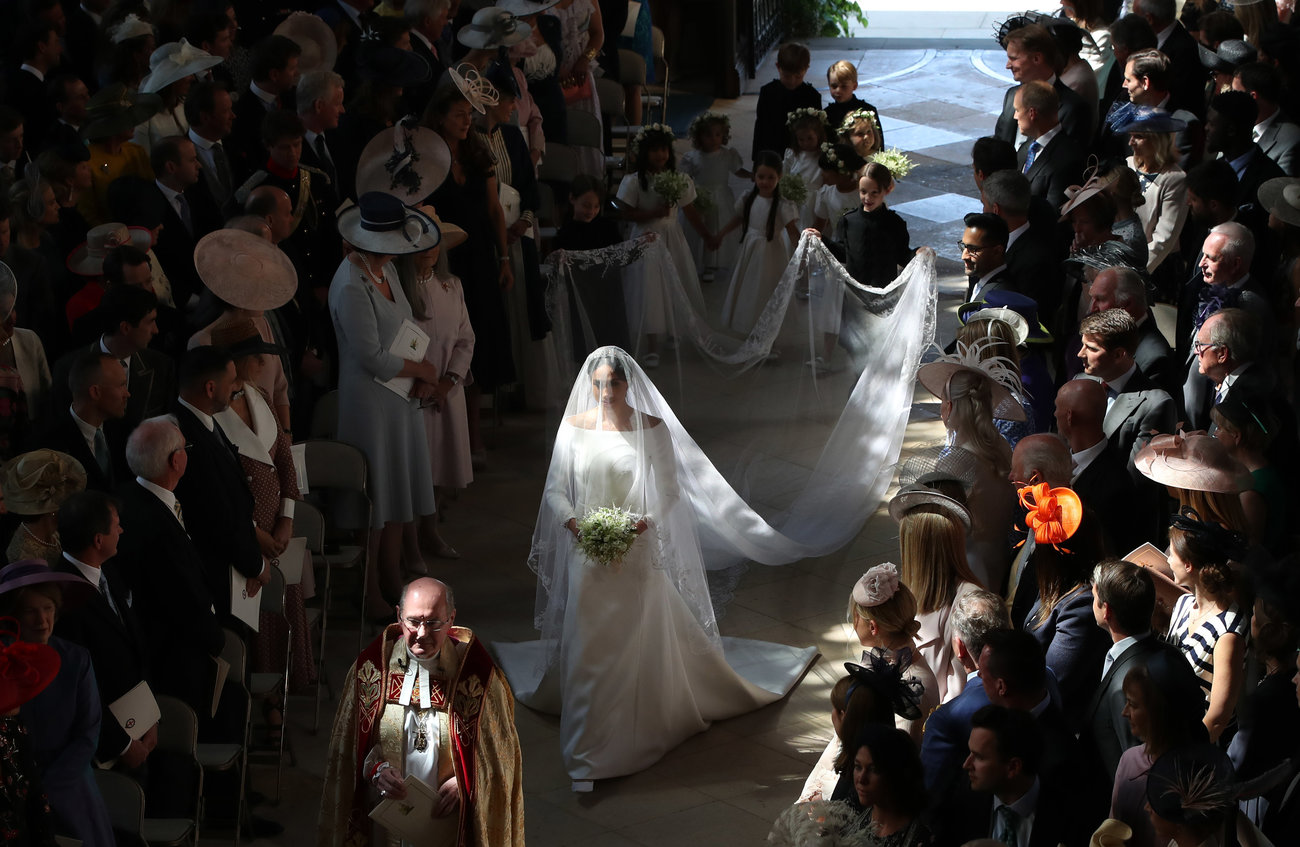 Before the bride presided down the long aisle of St. George's Chapel, six tiny baby bridesmaids took center stage, the girls were adorned with flower crowns. Young Princess Charlotte was included in the processional. Among the young lads that also came down the aisle were Princess Kate and Prince William's darling son, George. Markle also walked herself down the aisle for part of the way, perhaps a nod to the feminist movement, who then later met up with Prince Charles who happily gave away the bride. Markle's father, unfortunately, was not present for the wedding. Markle's mother, Doria Ragland, however, was in attendance wearing a pastel green ensemble and sporting a radiant smile. Ragland was alongside Prince Charles as they witnessed the signing of the marriage certificate before the royal couple emerged back out in front of the crowd.
During the ceremony, Prince Harry visibly became emotional as he sang along to the hymn "Guide Me, O Thy Great Redeemer", a beautiful tribute to his mother as this same song was sung at her funeral. Princess Diana's presence was felt by all during the ceremony as it was marked with several nods and tributes to her on a special day that Harry and all of his family would have loved to share with her.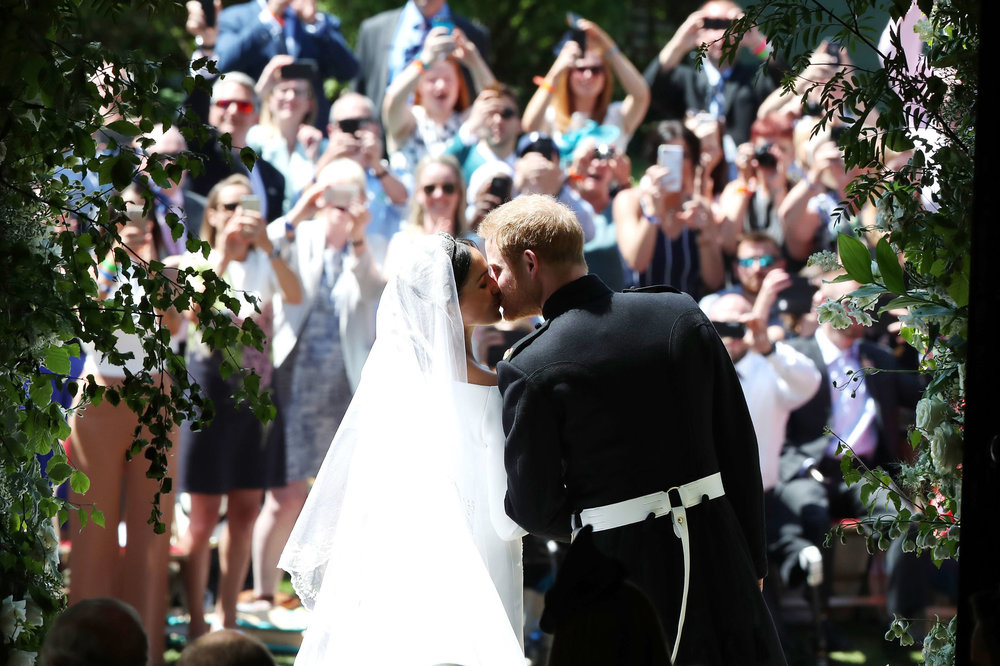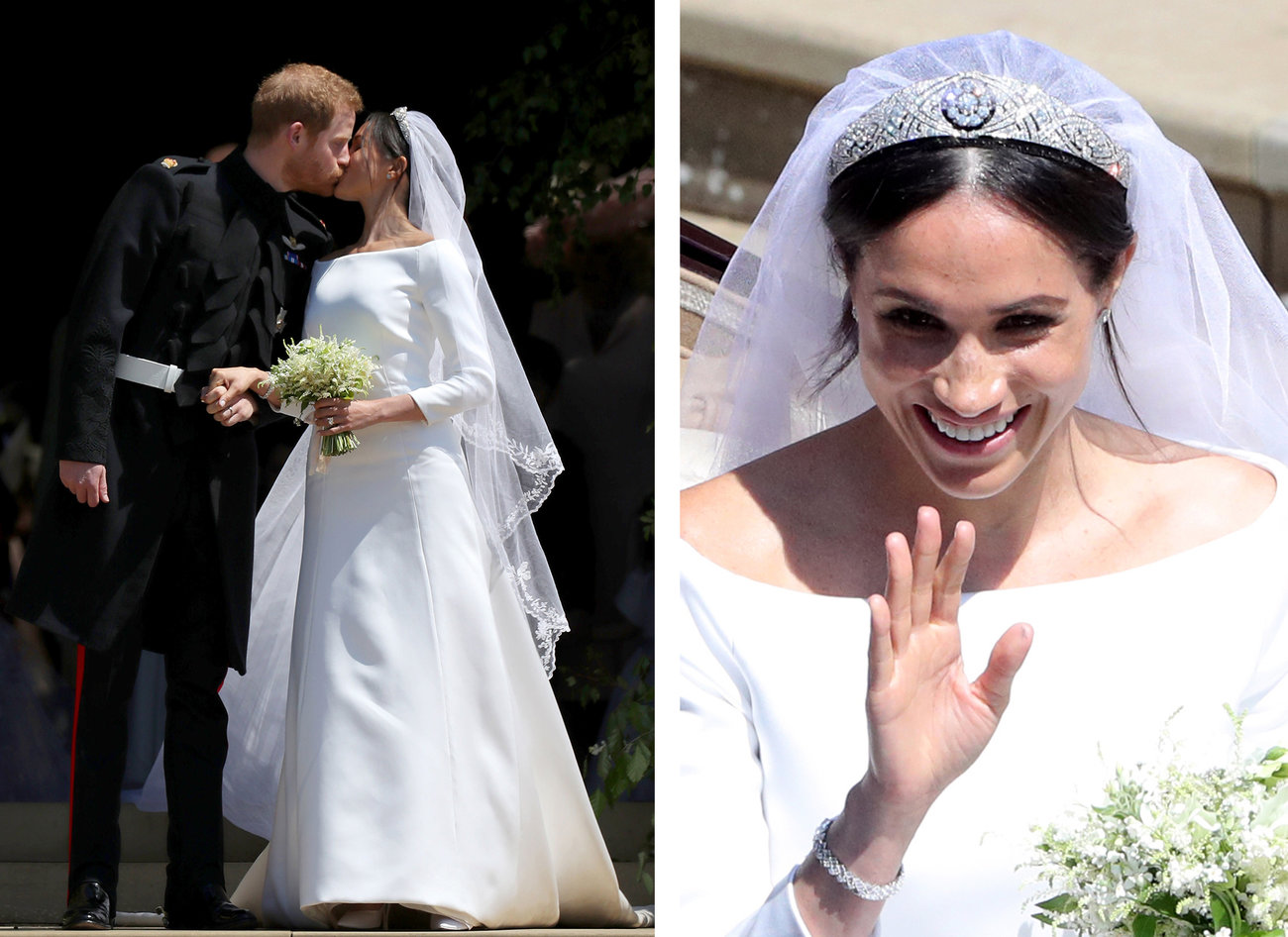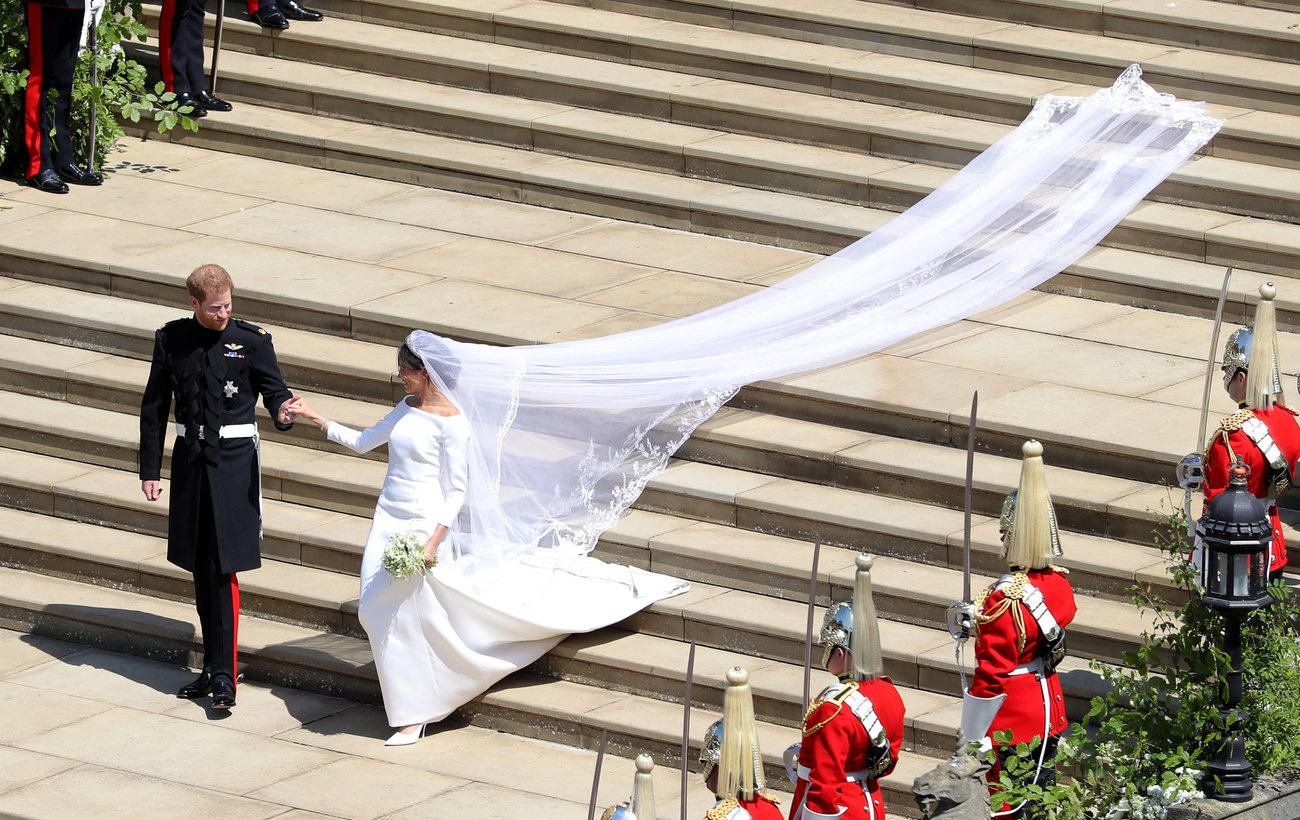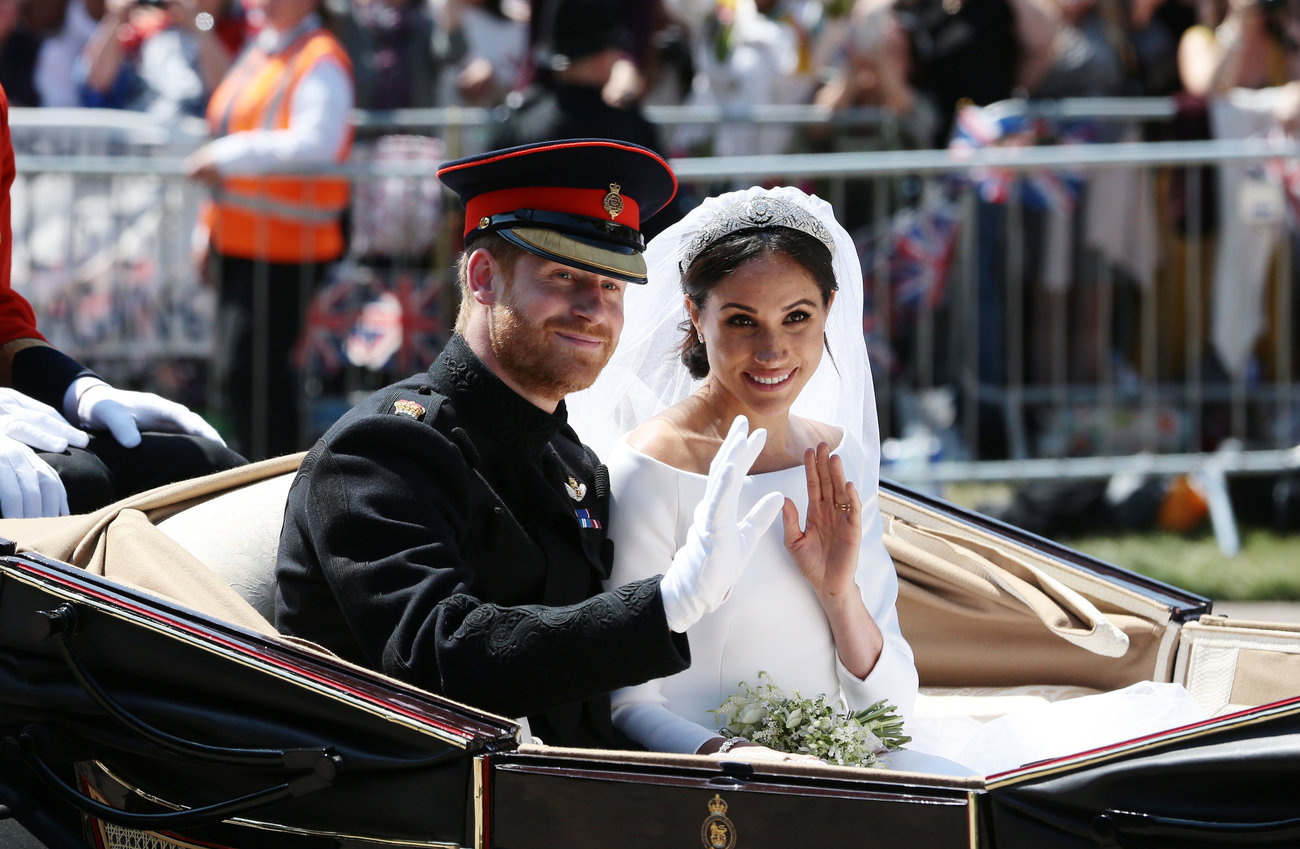 Upon exiting the chapel and sharing their first kiss on the steps of the chapel with the gorgeous sounds of the gospel choir singing and echoing "Amen!", the royal couple stepped into a luxurious horse-drawn carriage, while somehow managing to fit every inch of her veil into the carriage with her new husband.
Que the costume change! Markle slipped into a beautiful new, figure-hugging, high neck wedding gown with an evening flare for the reception, designed by Stella McCartney. The reception gown was actually a nod to American royalty. She was inspired by Carolyn Bessette Kennedy for this gown. Which dress is your favorite? Let us know in the comments below!
The couple rode away to the reception in a gorgeous silver blue Jaguar.
At the reception, all female guests were greeted with brand new, snow white slippers with cushy soles to put their feet at ease, which were no doubt throbbing after spending quite some time in heels for the ceremony. This was a lovely personal touch from Markle. Elton John, a close friend of Harry's late mother, the beloved Princess Diana, serenaded the bride and groom at their wedding. In a beautiful but subtle nod to Princess Diana, Markle also wore the gorgeous aquamarine ring that once belonged to Princess Diana during the reception. Talk about "Something Blue"! Fun fact: this is not the first time Markle has been given a jewel of Diana's. Markle's engagement ring even has two stones from one of the precious, and no doubt expensive broaches that Princess Diana used to wear.
So, the question you've all been asking yourselves, how much did the royal wedding actually cost? An estimated $45,000,000. Royalty ain't cheap.