Gorgeous Pink & Peach Bridal Shower Inspiration
Hey brides! If you've been following along with my Maid of Honor Files series then you probably know I've spent a lot of time trying to plan the PERFECT bridal shower for my sister! While no shower is perfect, this bridal shower came together quite well! I was lucky enough to have all hands on deck the night before the shower with my aunt, cousin, and grandmother all pitching in to help set up the decorations. It's amazing how much gets done with a few extra sets of helping hands! The bridal shower ended up being a huge success and I'm here to give you all of the details on this ultimate pink & peach bridal shower! Everything came together perfectly and I couldn't be more happy with the outcome. A lot of details and planning went into this so it was very satisfying to see everybody enjoy the party and celebrate my beautiful sister! So, let's get to it!
The morning of the shower I woke up at the butt crack of dawn to get my hair and makeup done before the shower and threw on my mustard yellow maxi dress from Francesca's. It's super comfy and cute. I wish I could wear it every day! After I finished getting ready, it was time to set up the food. We had the amazing Chef Suzanne come in with delicious quiches to serve to our guests since this bridal shower was actually a bridal brunch. The quiche was absolutely amazing, I'm still drooling just thinking about it! Love me some quiche lorraine.
Other drinks and treats on the menu included the following:
Mimosa Bar
Elderflower & Rose Lemonade
Sparkling Cider
Yogurt Parfaits
Cinnamon Rolls
Blueberry Muffins
Cranberry Scones
Warm Croissants & Nutella
Ham & Cheese Quiche
Chicken Salad
Between warm cinnamon rolls, freshly baked muffins and delectable scones, we were set for a pretty delicious party. I would have eaten much more if I wasn't busy hosting the shower, that's for sure! Each muffin was arranged around a stand that was topped with a doily on each section. The yogurt parfaits were carefully created by layering yogurt with granola and topped with fresh berries and sprinkle of chocolate chips. Kept cool on a refrigerated tray, these yogurt parfaits were a real hit. Needless to say, the food at this shower was a showstopper!
The decorations were something I had been planning for the shower for months! After lots of scrolls through Etsy for perfect decorations and scouring Pinterest for DIY projects that I could pull off for the shower, everything was finally coming together. From shimmering ring confetti, to fresh pink and peach florals, the decor for this bridal shower was planned out very carefully. An eye for detail was definitely a great advantage for me as I curated a bridal shower decor plan. Throughout my time of being a maid of honor so far, Etsy has become my best friend. I ordered a glittery rose gold "Miss to Mrs" banner and a gold "Love" balloon. The rest of the decorations included lace-lined mason jars, a balloon garland, photos of the happy couple strung up with pink mini clothes pins and more!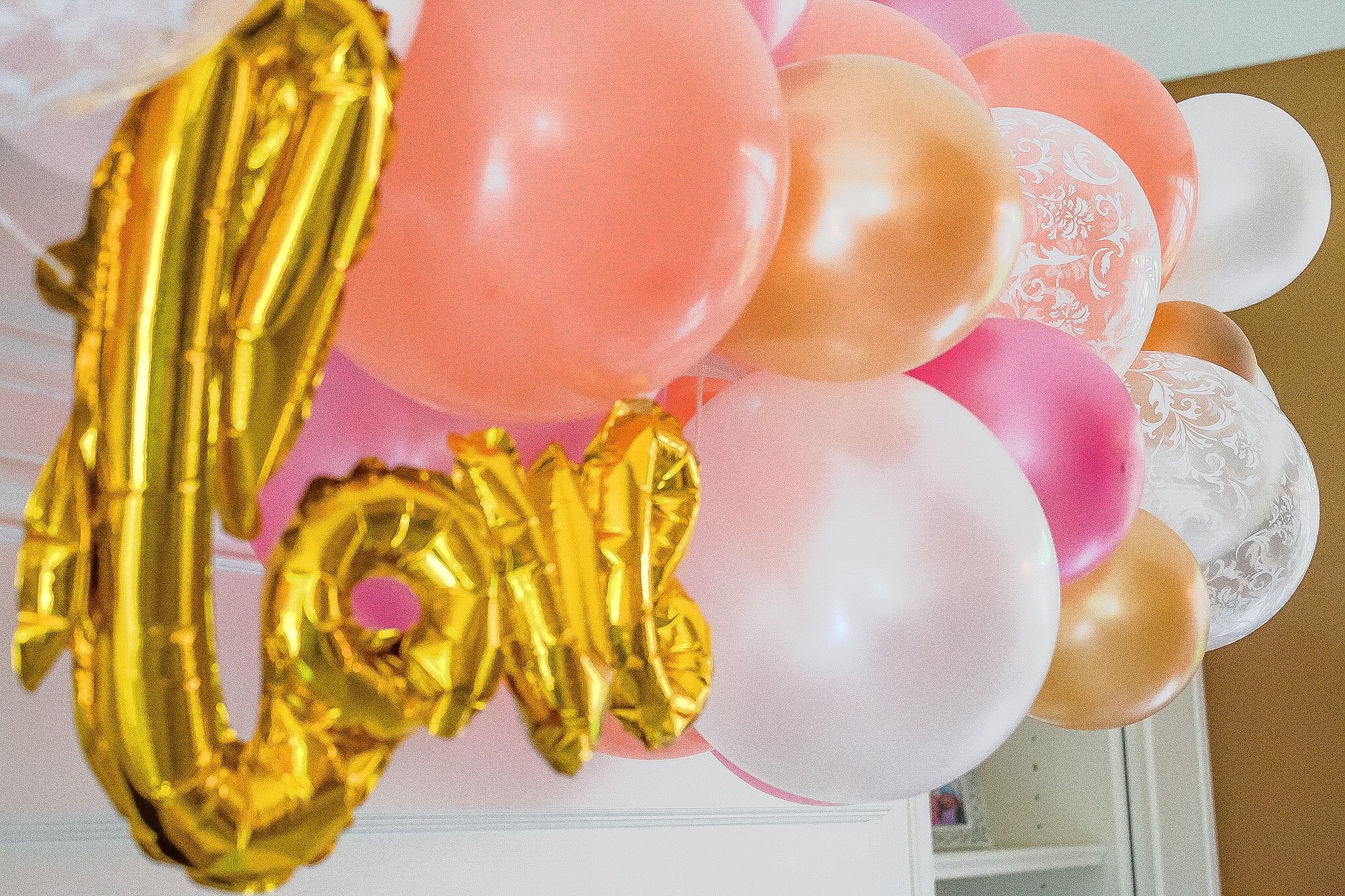 During the shower we played two games, a How Well Do You Know the Bride questionnaire paired with a word scramble. I highly recommend keeping your bridal shower games down to 2-3 games in the interest of time and also because too many games just get old after a while. So, keeping it to a minimum of a couple fun games is a smart move! And we had prizes for the winners which made it even more exciting and fun! And let me tell ya, the competition was fierce. Ladies at bridal showers ain't messing around.
After the mixing and mingling, eating and drinking, & games and laughter, my sister opened her gifts. As the maid of honor, I handed all of her gifts to her and cleaned up the wrapping paper. My co-host for the bridal shower and also one of the bridesmaid's tag-teamed with me and her duty was to take note of each gift and who was the giver of that gift. That list will be a life saver when my sister and her fiance begin writing their thank you notes. We took all of the bows and stapled them to a paper plate, it is a tradition of course. And that is the bouquet that she will carry at the rehearsal. As the old saying goes, for every ribbon the bride breaks, that's how many children she's expected to have. My sister carefully unwrapped every bow and only snapped one. So, looks like she's going to have an only child! Just kidding!
After the gifts had been unwrapped and we had all taken a group photo, the groom made his appearance and the happy couple was celebrated. The rest of the time was spent mingling with the bride and groom-to-be and congratulating the two on their upcoming nuptials. As party favors, each guest got to take home a ring box full of malted milk balls and any scent of Yankee votive candle of their choosing!
With the bridal shower behind us, it's now time to get cracking on bachelorette party ideas. Wish me luck and stay tuned for my next post!
Vendors:
Photography - Gabrielle Bouquet
Catering - Chef Suzanne